Danielle Moffatt and Clifford Spencer's love story doesn't come with bells and whistles, but rather a pragmatic decision that led them to take their relationship seriously after casually dating for two years.
"It was a chance meeting at a leadership conference on campus (University of the West Indies)," Moffatt shared, noting that at the time there were no sparks until a year later when the two would happen upon each other again.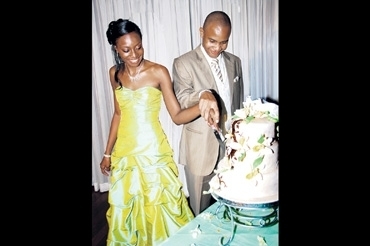 Realising they enjoyed each other's company, Clifford asked Danielle to marry him last January.
They decided to get married on Saturday, October 30, 2010 at the New Testament Church of God.
"I wanted my wedding to be eclectic with all the music that I liked and have multiple wardrobe changes," Moffatt said.
Making her way up the aisle to Keyshia Cole's Trust, the bride was a vision of loveliness in a strapless white gown and a fingertip veil. Her hair was swept back with loose curls falling on her upper back, even as she clutched a bouquet of anthuriums, roses, orchids and baby's breath.
The groom cut a handsome dash in a pinstriped coffee-coloured suit, striped brown tie, white shirt and vest.
Vows — officiated by Reverend Eitel Morris — complete, the couple performed a sand ceremony to illustrate their now intertwined lives, using Beyoncé and Marc Nelson's After All Is Said And Done as the soundtrack.
The nuptials were immediately followed by a reception at Alhambra Inn in Kingston, where the bride, who stayed close to her groom, entered wearing an iridescent lime green dress with a sweetheart neckline and draped detailing along the skirt.
The evening's toasts and formalities were followed by the first dance; the couple chose Whitney Houston's I Look To You as the soundtrack.
There was, too, the cake cutting, which saw the pair sharing morsels of the moist Tessa Lafayette lychee and red velvet creation.
A self-professed closet junkie, the bride would have another wardrobe change, this time to an orange gown of her own design. Swanning into the room and revelling in the attention, the new Mrs Spencer opened the dance floor and guests joined the newly-weds in a night of grooving.