MUMBAI, India (CMC) — Stafanie Taylor followed-up a penetrative spell from Anisa Mohammed with a purposeful half-century to lead West Indies Women to a historic nine-wicket victory over India Women in their first One-day International yesterday.
Taylor, one of six players under central retainer contract with the West Indies Cricket Board, struck 10 fours in an unbeaten 85 from 122 balls, as the Windies Women, chasing 162 for victory, reached their target with 79 balls remaining at the Bandra Kurla Complex.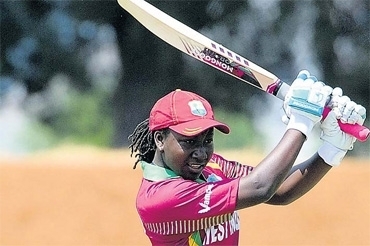 Off-spinner Mohammed, another of the players under WICB contract, set things up for the Windies Women, when she captured four wickets for 27 runs from eight overs, as India Women, choosing to bat, were dismissed for 161 in 49.3 overs.
Taylor supported with two for 20 from eight overs with her uncomplicated off-spin to lay the foundation for another solid all-round showing.
"It was an excellent performance from the girls," said West Indies coach Sherwin Campbell. "It was a very good start to the tour."
"The pitch was very good for batting, and we did a lot of things right. Anisa and Stafanie have delivered for us before, and again (in this match), they showed that they are world-class players."
The result handed the Windies Women a 1-0 lead in the five-match series, which continues on Thursday at Reliance Stadium in Vadodara.
It also gave the visitors their first-ever ODI victory over the hosts in 10 attempts, which included two losses at the last two Women's World Cups.
West Indies suffered a setback in their chase, when Juliana Nero was bowled by Jhulan Goswami, the India Women captain, in the seventh over.
But Shanel Daley, another WICB contracted player, and the daughter of former Jamaica men's fast-medium bowler Aaron Daley, was promoted to number three.
She responded to the challenge with half-dozen fours in a career-best 44 not out from 86 balls, and shared a record 137 — unbroken — for the second wicket with compatriot Taylor, as the visitors broke their maiden against India Women in style.
"Stafanie used the opportunity to build an innings and get some early runs," said Campbell.
"In the first part of the innings she was slow, but she understands batting, and she just grew in confidence after this. It was another excellent batting display."
Campbell said: "Daley moved up to the number position, and she did an excellent job for the team. It was something new for her, but she made the adjustment, and showed great determination."
Steady bowling from the Windies Women restricted India Women's scoring early, and they had to wait until the 17th over to make the breakthrough, when Deandra Dottin, another contracted player, trapped Anagha Deshpande lbw for 21.
Mohammed turned the match, however, when she trapped Poonam Raut for the top-score of 33 in the 21st over, and had Rumeli Dhar caught for two to leave India 85 for four in the 29th over.
Windies Women continued to bowl steadily, and India Women never fully recovered, despite a handy 32 for Harmanpreet Kaur.
"Anisa bowled really well, and from the start of her spell she was looking confident and posed problems for the Indians," said Campbell.
Scoreboard
INDIA (maximum 50 overs)
P Raut lbw b Mohammed 33
+A Deshpande lbw b Dottin 21
M Raj c King b Mohammed 6
H Kaur run out (Dottin) 32
R Dhar c Daley b Mohammed 2
P Roy lbw b Mohammed 12
R Malhotra b Campbelle 8
D David c King b Taylor 0
A Sharma c Taylor b Smartt 15
*J Goswami c and b Taylor 8
G Sultana not out 2
Extras (b4, lb2, w14, nb2) 22
TOTAL (all out, 49.3 overs) 161
Fall of wickets: 1-45 (+Deshpande, 16.5 overs); 2-71 (Raut, 20.4); 3-72 (Raj, 22.3); 4-85 (Dhar, 28.2); 5-106 (Roy, 32.4); 6-129 (Kaur, 37.5); 7-129 (David, 38.2); 8-133 (Malhotra, 41.4); 9-150 (*Goswami, 46.1).
Bowling: Selman 6-0-16-0, Smartt 8.3-1-26-1, Dottin 4-0-20-1, King 10-2-35-0, Mohammed 8-2-27-4, Taylor 8-1-20-2, Campbelle 5-0-11-1
WEST INDIES (target: 162 off 50 overs)
S Taylor not out 85
J Nero b Goswami 12
S Daley not out 44
Extras (b8, lb1, w11, nb1) 21
TOTAL (1 wkt, 36.5 overs) 162
Did not bat: *+M Aguilleira, S King, D Dottin, B Cooper, A Mohammed, S Campbelle, S Selman, T Smartt
Fall of wickets: 1-25 (Nero, 6.6 overs)
Bowling: *Goswami 7-0-41-1, Dhar 5-2-10-0, Sharma 5.5-1-25-0, Sultana 6-1-28-0, David 6-1-19-0, Malhotra 3-0-17-0, Roy 4-0-13-0
Result: West Indies Women won by nine wickets (with 79 balls remaining)
Series: West Indies Women lead five-match series 1-0
Toss: India Women
Umpires: G Iyer, V Nerukar
TV Umpire: R Deshpande
Match Referee: A Pendharker