BiographyAnderson's acting career began with a role in Dancehall Queen (1997); she is also known for playing the character Serena in the 2003 Jamaican film, One Love.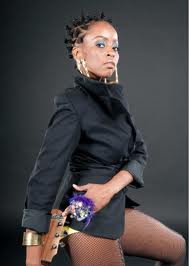 Anderson has worked and performed with Sly and Robbie, Sting, Wyclef Jean, Bootsy Collins, Jimmy Cliff, Michael Franti and others. She contributed to several Independent Online Distribution Alliance compilation releases prior to the success of her January 2006 single, "Good Love", which appeared on a compilation showcasing the riddim of Jimmy Riley's "Love & Devotion". "Good Love" appeared on the 2008 Grammy nominated album, Anniversary, by Sly and Robbie and the Taxi Gang.
She performed at three events (The Green Ball, The Inaugural Peace Ball, Rock The Vote/Calvin Klein Inaugural Party) to commemorate President Barack Obama's inauguration.
In 2006, Anderson collaborated with Chuck Fenda on the single, "Coming Over", which rose to on the Jamaican charts.
She has toured with artist such as John Mayer (Battle Studies North American Tour (2010), Counting Crows, Slightly Stoopid, Sly & Robbie, Augustana among others. Cherine has performed at festivals such as Coachella - USA (2009) Bluesfest - Australia (2009)
Rototom Festival- Italy (2009) Summer Jam- Germany (2009) Arras Main Square Fest- France (2009) Your World Festival- Holland (2009) Rock-Zottegem Festival- Belgium (2009) Sierra Nevada world Music Festival- USA (2009) Mounatin Jam Festival- USA (2009) UCLA Jazz & Reggae Festival - USA (2009, 2006) Earthdance-USA (2009) Rebel Salute - Jamaica (2009) Ragga Muffins Festival - USA (2008) Hollywood Bowl KCRW Series- USA (2008) Hollywood Bowl Reggae Series- USA (2007) Reggae Rising- USA (2007) Big Day Out – British Columbia (2007) BVI Festival- Virgin Island (British) (2007) Reggae Sumfest –Jamaica (2007, 2006) STING-Jamaica (2007,2009) Reggae on the River –USA (2006) International Reggae Day- Jamaica (2006)