Andre Woodhouse has been a mainstay in the food and beverage department at the Jamaica Pegasus Hotel for the past 15 years, gradually moving up the ranks from steward to commis chef. Armed with a welcoming smile and an easygoing temperament, Andre Woodhouse fell in love with culinary fare while taking food and nutrition classes in his teenaged years at Pembroke Hall High School. He subsequently enrolled at the then College of Arts, Science and Technology (CAST) where he secured himself a catering certificate. As he diligently goes about preparing a shrimp in cream sauce dish in the hotel's frenetic kitchen, Woodhouse shares with Thursday Food that working at the Pegasus has truly been a great training institution but plans are in place to pursue courses at City & Guild, as he's all about self-improvement. The 33-year-old divulges that he would someday "love to open a restaurant of my own that serves classic meals", and should such an enterprise be realised, he adds; "I would want to offer apprenticeship for underprivileged students, maybe even from boys' or girls' homes to do training, as you can never tell the skills some persons could have unless you give them the opportunity to develop them."
Veyona Martin, sous chef, Wyndham Kingston Hotel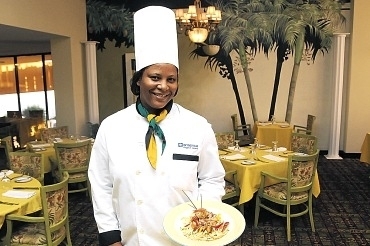 Trattoria Restaurant may be a new Italian eatery at the Wyndham Kingston Hotel, but one of its sous chefs is certainly neither new to the hotel nor its food and beverage department. She's Veyona Martin, and her service to the hotel has morphed through its initial Wyndham name in the 1990s to its change to the Hilton brand and back to the Wyndham again. A no-nonsense person, 37-year old Martin is now approaching her 16th year of employment at the Knutsford Boulevard premises where she began as a cook in 1995. For her, whipping up delectable meals with an unbridled passion is as equally satisfactory as receiving a compliment from a diner. "What I like most about my job is that it's not monotonous; you can always create something new, but it's always heartening when someone enjoys a meal and says 'good job', it gives me gratification and boosts my mindset and lets me know I'm on the right track," says the UTech general catering graduate. It comes as no surprise that she's in her current profession as fate seemingly dictated it. As a young girl, she recalls always having an affinity for food and its preparation. "Everytime my mom would cook, I would want to be involved... she would leave recipes and I would cook them." No doubt, Mom is very proud of her Veyona.
Richie Richards, chef de cuisine, Spanish Court Hotel
Lanky, handsome, and deftly skilled behind a stove is 26-year-old Spanish Court chef Richie Richards. Educated at the Runaway Bay Heart Institute and the Culinary Institute of America, the polite and well- mannered Richards joined the hotel when it opened in March 2009. His passion for food is evident in his voice when the topic turns to anything food-related. While Richards long harboured a yen for cooking, from seeing and smelling his mother's handiwork in the family's kitchen and through exposure to food classes at his alma mater, Old Harbour High, his first job was as a field officer with the Ministry of Agriculture. He realised in a little over a year that he was in the wrong profession and left to pursue what he truly loved. Before joining Spanish Court, the talented chef worked as a cook at Sandals Dunn's River and served a two-year stint as a supervisor at Café Aubergine.