THE Jamaica Defence Force (JDF) on Thursday received approximately $300-million worth of military gear from the Peoples' Republic of China, which will assist in local crime-fighting operations, as well as regional and international assignments.
The items, which were provided directly by the People's Liberation Army (PLA), include uniforms, helmets, boots, jungle hats, backpacks, protective belts, folding beds, binoculars, socks, raincoats, tents, berets, elbow and leg guards, vests, binoculars, and camouflage fabric.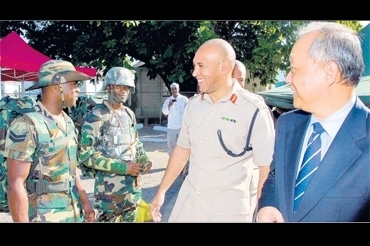 In thanking the Government of China, Chief of Defence Staff Major General Antony Anderson said the donation represented another step in the long and fruitful relationship between the both governments, and moreso the PLA and the JDF.
"The JDF, like the People's Liberation Army, has many roles in our society… whereas we are a defence force, we not only support the police in their work and (help restore) public order, but we also get involved in development work and also support our neighbours as we did early in 2010 when we deployed to Haiti in a disaster response role," he said.
The JDF chief said that collaborative efforts, whether it is provision of items or training and other exchanges, create the environment of improved relations between states and armed forces.