TERRI Salmon has two passions in her life — her two sons and acting.
The dramatic and emphatic personality of this local theatre actress coupled with her determination, tenacity and discipline were the perfect platforms from which to stage the successful dramatic season that is her life.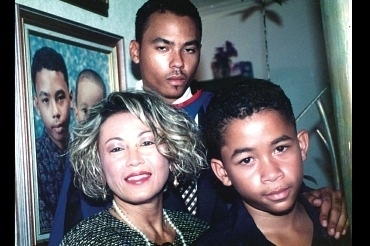 Her life in acting has brought her several accolades and awards. These include the Actor Boy Award for Best Supporting Actress for her role in Karl Hart's Dem Good Ole Days (2001), she also won the award again in 2009 for her role in Basil Dawkins' For Better or Worse.
Salmon credits her success on stage to her ability to "pull the audience in and lift the script from off the page and make the character my own by being sincere to the
words I'm playing, having done the research, leaving the moulding of the character to the director".
The actress is very comfortable in the space she finds herself in right now, and proudly says, "I've grown to be fearless, nothing fazes me anymore, not after 52 years in this life. I believe there is a God and I have faith in Him."
When she is not on the stage, relaxation for Salmon is either going to the beach or spending time with her
two sons.
Speaking of her boys, Salmon couldn't be happier about their achievements. Her first 'boy', 31-year-old Rory, is now contemplating his PhD in Anthropology, having completed his Masters two years ago; and the 'baby' 20-year-old Lawrence is now off on a tennis scholarship from the National Collegiate Athletic Association to the Methodist University in North Carolina.
Looking ahead, Salmon says she is more than ready for the "second phase of her life".
Having dedicated her life to nurturing her sons, she says with them now 'past the worst', "it's all about Terri Salmon and the second phase of my life".
Having been in so many pantomine productions and commercial theatre, Salmon says there is just one challenge left for her now, and that's a one-woman show.
"I would love to do a one- woman show, for that, to me, is the ultimate. You have to have comedic timing, which is the hardest to play in an actor's life," she shared.
Salmon, who started out as a dancer at Holy Trinity with Joy Gordon, whom Salmon credits as the first person to discover her artistic talent. During that stint, she earned gold
and silver medals from
Jamaica Cultural Development Commission prompting a scholarship from the late Joyce Campbell to her dance company -- Jamaica Institute of Dance.
From there Salmon was invited to join the LTM Pantomime by Barbara Gloudon as they needed dancers at the time.
A few years later, Gloudon decided to have a pantomime workshop assisted by the late Rex Nettleford. The workshop exposed Salmon to all aspects of theatre.
"The thespians of the art taught us lighting, acting, the works. Out of this six-week workshop, Mrs Gloudon decided to give me an acting part in the pantomime. I started out with a couple lines," Salmon reminisced.
That part more than whet her appetite for acting, it opened her up to the realisation that she wanted to spend the rest of her life doing it.
Since that time Terri Salmon has done at least 12 Pantomimes before being invited by Basil Dawkins to 'commercial theatre' with the play Couples.
Among Salmon's acting credits are I've Got Your Man, Dutty Wine (UK), Big Yaad, Mi Get Mi Landed (Canada), and Front Room, Jamaica To Rahtid, Dem Good Ole Days, Kiss Mi Neck, Concubine among many others in Jamaica.
While Terri Salmon can positively light up a stage with her performance, when she is out of the camera lights she describes herself as "a low- profile person".
"People would be surprised to know that I am low profile and I am a humanitarian at heart. Wherever I am in the world, I try to reach out to the less fortunate, especially the teenagers," salmon shared.
The reigning Actor Boy Best Actress in a Supporting Role can now be seen in the production I Take This Man at Theatre Place, Haining Road.
Her advice to those who want to follow in her footsteps is simple: "Be humble, dedicated and disciplined."