Forty years ago this evening, Rev. Dr. Martin Luther King, Jr. was shot and killed outside the Lorraine Motel in Memphis Tennessee. Dr. King has no doubt been unofficially canonized as the patron saint of the civil rights movement, and rightly so. As I'm writing this post it is barely 8:30 in the morning and I've already heard sound bytes of Dr. King's "I have a Dream" speech on at least 3 newscasts. Indeed, most persons will predictably label him as a civil rights leader and again, he surely was. But that is not all he was.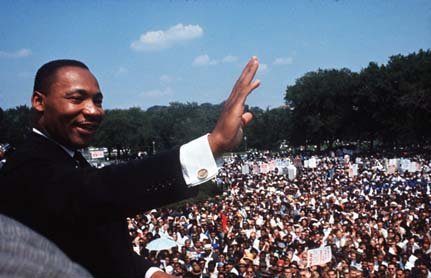 I think it is interesting, and quite unfortunate that we tend to romanticize folk like Dr. King for certain pet issues, usually issues we'd like to think we've resolved. So, Dr. King is reduced to only a civil rights activist. I never hear anyone mention his opposition to the Vietnam war or his advocacy for economic justice both of which were quite unpopular stances for him to take at the time. We worship him now for his nonviolent protests against segregation, but we forget that he was considered a threat while he was alive, not just for a pet issue, but unapologetically speaking prophetic truth in the face of injustice.
So today I'm not going to post a video of the sentimental U2 song (though it is a great song) laden with "I have a Dream" clips. I'm not going relate Dr. King to the current presidential race or the ongoing saga of Jeremiah Wright (though King was blackballed in a similar manner for not limiting himself to civil rights). No, instead I'm simply going to ask that we remember the whole King today, not just the civil rights King, but the King who spoke out against the rush to war; the King who criticized the misuse and abuse of political power; the King who rejected the ever-growing disparity between the rich and the poor; that King who refused to let economic injustice remain the status quo; and the King who selflessly gave himself for others, not just black others, but poor others, Vietnamese others, and oppressed others regardless of whether it was popular to do so.
May we all remember the whole King.