CHINESE
The Chinese represent a small proportion of the Jamaican population, nevertheless, their impact has been great particularly in the area of commerce.
The first Chinese arrived in 1849. The Chinese were brought as indentured labourers to work on the sugar estates following the the emancipation of the maroons. However they disliked the nature of the work and soon left, the left the estates and set up small grocery shops all across the island. Eventually they were able to develop their businesses until the small grocery
shops grew into large enterprises embracing not only retailing, but also wholesaling and other types of activities.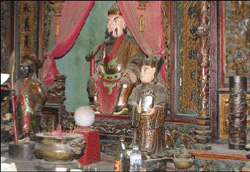 Although some Chinese went back home to marry Chinese wives who they brought back to Jamaica, others inter-married with non-Chinese Jamaicans contributing to the island's racial mixture.
Apart from the development of commerce, the popularity of Chinese food among Jamaicans is a lasting contribution to the island.
Despite some "Jamaicanization," the Chinese have also worked hard to maintain links to their culture. Writers like Anglican priest Easton Lee, explore their Chinese Jamaican roots in poetry and prose.
Restaurants continue to offer Dim Sum, the traditional Chinese Sunday brunch, and many jamaican supermarkets sell traditional Chinese cooking ingredients. The Chinese Benevolent Society has 5 subsidiary organizations: the Chinese Public School, the Chinese Sanitariam, the Chinese Alms House, the Chinese Public News and the Chinese cemetery on Heart's East Ashley Road. The Miss Jamaica Chinese Beauty Pagaent is no longer held, but many Jamaican beauties of Chinese descent have entered and done well in the Miss Jamaica beauty contests. Winners include Sheila Chung and Patsy Yuen. Chinese holidays such as Chinese New Year, and the Moon and Boat Festivals as well as the anniversary of the Founding of the People's Republic of China, are still celebrated in style if less extravagantly than earlier in the 20th century when they often included dinners and fireworks.
Chinese Jamaicans have also made their mark in the political arena with MPs such as Rose Leon, Ferdinand Yap-Sam and Delroy Chuck. Similarly, Chinese Jamaican impact on the business world is far reaching with families and individuals controlling substantial restaurant, bakery and supermarket chains such as Island Grille, Purity and SuperPlus, as well as banks such as NCB.
Next year, to celebrate the 150th anniversary of The Chinese arrival in Jamaica, Patrick Lee is publishing his new book "Jamaican Chinese Worldwide - One Family" which will include families from Jamaica, USA, Canada and Britain.